Welcome, 'Flow'
---
Creating beautiful and functional designs is one of Kodanska's main motivations. Beauty and function are also the essence of Marie Graff's latest collection, which is an extension of Kodanska's highly successful 'Flow' collection. Kodanska now follows up on this successful series with colourful carafes in organic forms, artistic mini-vases and a range of big and small glasses in bright, clear colours that beautifully and elegantly complement Kodanska's popular collection 'Danish Summer'. 
FREE-HAND FORM DESIGNED BY EYE
The form of the 'Flow' carafe springs from the designer's sense of quality and colour combinations. With its soft shapes, versatile colour scheme and inviting shape, the 'Flow' carafe is equally perfect as a functional design on the lunch table, as a beautiful component in a decadent still life on the windowsill and as a centrepiece on the dinner table.
'I love design and all the processes that go into making a product. Once the COVID-19 situation was such that we could travel to the Czech Republic, I flew down there, in June, to visit my glassblowers, and immediately began to create new forms. After just four hours, we found the perfect shape, created as free-hand form and designed by eye. Good design is the perfect combination of function, form and visual expression, and I definitely think we achieved that here,' says Marie Graff, the founder of Kodanska.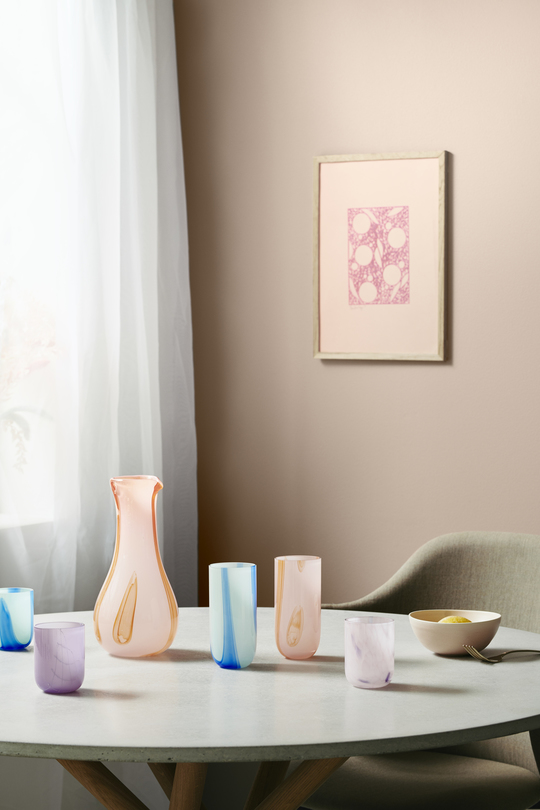 'I love the artistic expression of our "Flow" collection and wanted to see if I could mix my two collections "Flow" and "Danish Summer". I did not want one collection to exclude the other; instead, I wanted to be able to combine them in order to create an artistic and personal home design expression that combines classic, wild and colorful elements,' says Marie Graff, the founder of Kodanska.
An innovative element in the Nordic table setting
In addition to the 'Flow' carafe, Kodanska has also expanded the 'Flow' collection with mini-vases and beautiful glasses in two different sizes. The new 'Flow' glasses are a new and innovative element in the Nordic table setting. In combination with Kodanska's classic 'Danish Summer' glasses, they make for a lively expression with plenty of color and personality. Use the colorful little vases along with a small candle holder on the dining table or place them on your windowsill to strike a cheerful mood.
---
Marie Graff, the woman behind KODANSKA
The woman behind Kodanska is designer Marie Graff. Kodanska means Copenhagen Street in Czech and is the name of the street in Prague where Marie lived for a number of years with her family. This was also where she had the idea for the Kodanska firm.
Today, Kodanska is a Danish company designing and producing timeless interior design items with an emphasis on quality and aesthetics.